---
FLASH! Record-breaking Recruitment at '03 Freshman Bazaar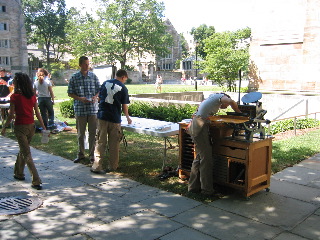 The 2003-2004 academic year started off with a bang as the Honorable Company of College Printers recruited a record-breaking ninety-one (yes, Virginia, *91*) potential apprentices at the Freshman Bazaar of Undergraduate Organizations that opened the academic term. Under the direction of Apprentice Coordinator Sam Smith '05, ably supported by Graduate Advisor Brian Janusiak and printers from the Jonathan Edwards and Pierson Presses, this year's Bazaar event was the most successful ever. For the first time the HCCP was able to take advantage of its Portable Press, a complete shop on wheels featuring a Chandler & Price Pilot, that is normally hosted by the Berkeley Press. Freshman and others were invited to try their hand at printing, and HCCP members took names and gave out literature and samples. Kudos to all who participated!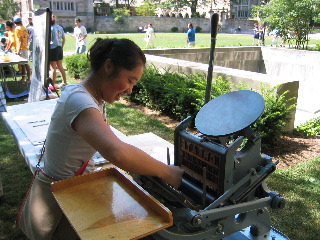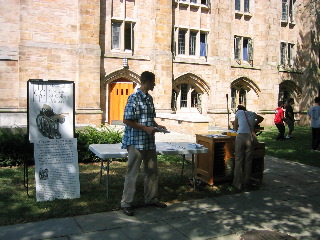 ---
Since 1937, the Yale Honorable Company of College Printers, the world's oldest continuous student printing guild, has coordinated the

activities of the Yale undergraduate college presses. Unbeknownst to many on campus, there are over half a dozen fully equipped print shops among the various colleges. Most have three or four antique letterpresses, loads of irreplaceable hand foundry type and precision hand proof presses. Many also have computer typesetting facilities, bookbinding materials, and other state-of-the-art equipment.
As members of a college press, students learn the wonderful "Black Art" of fine letterpress printing, are given access to Yale's unrivaled collection of fully-equipped print shops, and are eligible to submit their work for the Lohman Prize, Yale's annual award for the finest undergraduate printing. College printers are also eligible to join the Honorable Company, an informal social group for those who appreciate the Book Arts. There are no dues, no commitments, and no admission requirements, other than a desire to learn about this craft which dates back over 500 years.
For those looking for quick introduction to letterpress, check www.fiveroses.org/intro.htm.
At the college presses, students, Fellows and other members of the residential college community can print their own:
Personalized fine stationery
Dramatic event posters
Limited edition books
Poetry broadsides
Stunning invitations
Holiday cards
Special occasion keepsakes
Hand-bound journals
Fine artists' prints
Menus for special dinners
Business cards
Personalized beer coasters
...and much, much more!
Join a press today...
Click here and start the presses rolling!

---