The Special Letpress Mailing List
Imposing Stone Offer
---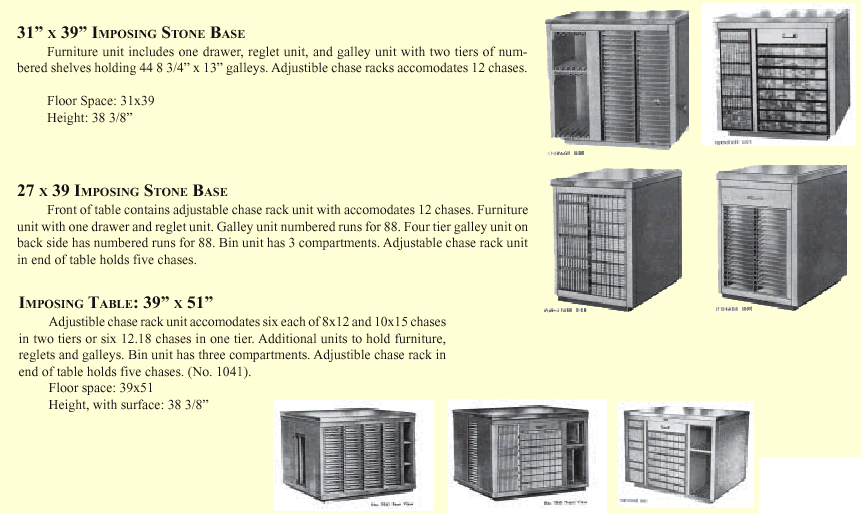 ---
If you are willing to make a tax-deductible contribution to Yale University to help support its wonderful undergraduate letterpress tradition (probably the finest in the US), I am willing to give you a brand new imposing stone! Not only is this a great opportunity to improve your shop while doing something charitable to preserve the letterpress tradition, but it's also a great deal. The suggested contribution for each of these is more than 90% off the catalog price from just a few years ago!
Unlike typical Formica workbench tops, or even machinists' surfaces, these are stunning, new-in-crate, purpose-manufactured, letterpress imposing stones (polished cast iron surface, with galley-high lips, on a full-height base which includes galley, furniture, reglet and chase racks) most of which were manufactured by Hamilton. These stones are New Old Stock, still in their original packing crates. Since they were manufactured in the closing days of the letterpress era, they have been sitting around for several decades (at least four, some longer) and as such there will certainly be some dust and dirt and surface rust. But we've already installed several at Yale, and they clean up very nicely with a little polishing and elbow grease.
If you've never use a real imposing 'stone' before, you will be in for an enormous treat and wonder how you ever survived without one. In order to avoid endless make-ready, it is essential that all the type in a form be at precisely the same height. If you have been locking up your forms on a table-top, or even a smooth piece of material, you have no doubt experienced the problems that come from even the most minute variation in the imposing surface. With these stones, imposing is a breeze and they will last for a lifetime (and beyond!)
Another major advantage (that can be a real space-saver if your press is in a tight space, and a real convenience if it is in a large one) is that the bases of these 'stones' constitute a one-stop shop for all your printing materials! As you can see from the descriptions and photos, these units have custom-designed spaces for ALL of your wooden or metal furniture, your reglets, your steel galleys, your platen-press chases, and even your quoins, keys, mallets and planers...in the handy metal drawer just beneath the surface.
The stones (bases and tops) are in an easily accessible, dock-high warehouse in New Haven, Connecticut (USA) right off I-95, and you are welcome to stop by and pick them up yourself, or we will arrange shipping for you at your cost. If you are in the New England/Mid Atlantic area, we can even arrange for a professional printing rigger to bring it down and install it in your shop (at your cost, of course.)
Here's what we have available:
| | | | |
| --- | --- | --- | --- |
| | Description | 1988 Catalog | Suggested Yale Contribution |
| A) | 27" x 39" surface + base | $1,975 | $ 197 |
| B) | 27" x 39" surface only (2" thick) | 1,125 | 99 |
| | | | |
| C) | 31" x 39" surface + base | $2,330 | $ 233 |
| D) | 31" x 39" surface only (2" thick) | 1,350 | 99 |
| | | | |
| E) | 39" x 51" surface + base | $3,170 | $317 |
| F) | 39" x 51" surface only (2" thick) | 1,450 | 99 |
---
---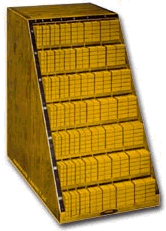 If you are tired of your old, battered furniture, and would like to equip your shop in one fell swoop with a state-of-the-art, complete solution, you can stock these new stones with full sets of galleys and brand-new wood furniture and reglets from one of LetPress's finest purveyors, NA Graphics of Silverton, CO. These items would be purchased directly from NAG, and shipped directly to you from the factory (again at your cost, of course) to avoid a double shipping charge:
| | | | |
| --- | --- | --- | --- |
| NA Graphics | 27 x 39 | 31 x 39 | 39 x 51 |
| Full set of new furniture/reglets | $ 425 | $ 425 | $ 530 |
| Full set of new steel galleys (36/72/92) | 194 | 388 | 497 |
| Full set of used steel galleys (36/72/92) | 108 | 216 | 324 |
---
Please note a few things:
This is a special "pre-offer" ONLY to the Letpress list! These stones will eventually be put up on eBay and through other means with the 'contribution' numbers being the minimum bids, and we have only a limited amount of this irreplaceable New Old Stock. So if you're interested in rounding out your shop with the ultimate in Hamilton stones, now would be the time to do it...and get a charitable deduction in the process [grin].

This special offer is intended only for individuals and institutions, so for the moment it's going to be one-to-a-customer. If for some unusual reason you are interested in acquiring more than one for resale, please get in touch with me off-line.
This pre-offer is a sneak preview of a much larger sale of an enormous array of letterpress goodies that will be announced within the next several weeks. Information will be posted here, in all the logical online venues, and in all of the letterpress-related newspapers [cough]. But since we don't have endless quantities, the "real" prices will be higher than these. See what a nice guy I am to my Letpress buddies? :-)
-David S. Rose Five Roses Press New York, NY